HAPPY GROUNDHOG DAY!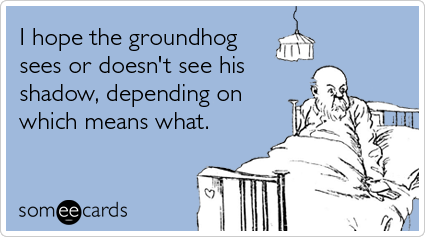 NROWLFW: Stage 1, Workout A2
-10 minute warm  on the elliptical.
-Squats: 30 pounds, 2 sets/15 reps
-Step Ups: 24 pounds, 2 sets/ 15 reps
-Seated Row: 42 pounds, 2 sets/15 reps
-Push ups: 2 sets, 15 rep
-Prone Jackknife: 2 sets of 9
I'm feeling great after this workout! I feel less like an idiot that doesn't know what she is doing and more like a semi-confident weight lifter.  The worst workout so far is the prone jackknife.  I can never do a full set and this exercise has officially become my goal.